This month, we join with the National Park Service in celebrating and honoring African American History Month by sharing stories about African American history in the Outer Banks and in your OBX national parks. 
Roanoke Island, 8 miles wide and two miles long, sits tucked between the North Carolina mainland and the barrier islands that make up the Outer Banks. The island is home to Manteo and Wanchese, one a quaint town and one a fishing village, both named after two famous Native American chiefs. It is an island beloved by both locals and visitors.
Roanoke Island is also home to one of your OBX national parks, Fort Raleigh National Historic Site, where the first attempted English settlement in the New World—now referred to as the Lost Colony—mysteriously disappeared into the pages of history sometime around 1587. 
But what you may not know is that Roanoke Island was home to another colony that was subsequently lost—the Freedmen's Colony. And that colony is just as important to America's history. 
"Fort Raleigh's not all about the Lost Colony, although that's the primary emphasis," Jami Lanier, Cultural Resource Manager for your three Outer Banks National Parks, said. "The Freedmen's Colony played an important role as well." 
In February 1862, in the early years of the Civil War, Confederate forces occupied Roanoke Island, while Union forces occupied Hatteras Island to the south. The Confederates had built up defenses on the marshy island, hoping to insulate themselves from the Union army. But the Union army was wise to their plan, and Brigadier General Ambrose Burnside and his troops sailed from Maryland to North Carolina, in an attempt to blockade the South. On their way to Roanoke Island, Burnside's men faced the punishing tides and shoreline of the Outer Banks, causing them to lose both ships and supplies.
Yet, Burnside was unfazed. He was determined to gain access to waterways to make an inroad to Roanoke island. On February 6, 1862, Burnside's troops arrived at Stumpy Point, and began pressing into the Albemarle/Croatoan sound. The Battle of Roanoke Island began the next day at 11:30 a.m. 
Though the Confederates put up a valiant fight, they were outmanned and outgunned by the Union Army.  The Confederates subsequently surrendered and the Union Army took control of Roanoke Island. 
African American slaves on Roanoke Island had been pressed into service by the Confederate Army.  After the battle, the Union Army liberated the slaves and offered them the option to stay on the island or to return to their masters. Many chose to leave, but several chose to stay.
Soon after, word of a "safe haven" on Roanoke Island began to spread. Former slaves began coming to the northern end of the island, crossing the swampy Albemarle/Croatoan sound to claim their freedom. As more and more people came to the island, the Union army had to decide how to care for the sudden population influx.  
"I kind of liken it to a refugee crisis," Josh Nelson, Lead Ranger at Fort Raleigh National Historic Site, said. "That's really what it boils down to."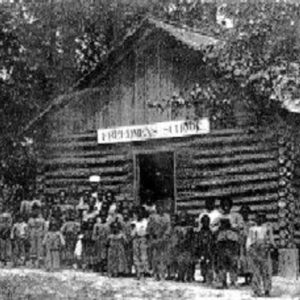 Thus, the Union army formed what became known as the "Freedmen's Colony" in May 1863. The freedmen were given plots of land and a community began to take shape: houses, churches, schools and sawmills were built. Haven Creek Baptist Church, the oldest African American church on Roanoke Island, was established during that time. Martha Cullens became the first African American schoolteacher on the island and six more joined her soon after. Former slaves, both children and adults, were taught how to read and write by revisiting Bible stories that had been passed down through oral history. The colony flourished. By 1865, the colony had a population of more than 3,000—possibly 4,000—people. 
Tragically, members of the Freedmen's Colony were subjected to abuses by the Union army, who failed to deliver on their promises to take care of the freedmen. Richard C. Etheridge, who was born a slave on Roanoke Island and left to join the Union army's 36th United States Colored Infantry Regiment, co-wrote a letter with William Benson to the Commissioner of the Freedmen's Bureau, decrying the injustices and admonishing the Commissioner to put an end to them.   
After the Civil War ended in 1865, the majority of freedmen were forced to give their land back to its original owners, as the government mandated. They began moving to other parts of the state, and the colony was decommissioned in 1867. 
But some freedmen stayed. Eleven families banded together and purchased 200 acres of land to set up homesteads. Three other men followed suit and bought their own plots of land. By 1870, there were about 300 African Americans living on Roanoke Island, and many owned their own homes. Those who stayed worked hard to establish a life for themselves. And many of their descendants still live on or nearby Roanoke Island, like Darrell Collins and Virginia Tillett. 
"I have a deep love and respect for Manteo," Collins said. "It's a nice place to live, a nice place to raise a family. It's really got an old time feel to it, a small town feel to it."
Collins is an award-winning, internationally renowned expert on the Wright Brothers and has deep roots in Roanoke Island: his family dates back to 1862 and his great-grandparents were members of the Freedmen's Colony. 
Collin's grandmother, whose maiden name was Bowser, married Frank Grant Wise, whose parents were members of the Freedmen's Colony. Wise was a shoemaker on Roanoke Island, he set up shop in the back of his home where he made and repaired shoes.  
"People from all over the county would come and bring their shoes there or get him to repair shoes," Collins said. "And once he passed away, my grandmother took over the trade and repaired shoes." 
Collins graduated from Manteo High School in 1973 and went on to major in Geology and minor in History at Elizabeth City State University. He fell in love with the story of the Wright brothers and returned to the Outer Banks during his college years to work as a seasonal ranger at the Wright Brothers National Memorial – a move that would inspire a 40 year career in the National Park Service. 
Collins's mother was instrumental in helping to keep the history of the Freedmen's Colony alive, and Collins is committed to carrying on her dream while leaving a legacy of his own. Currently, he serves as a Commissioner for the Town of Manteo and is the President of the Pea Island Preservation Society. He also cares about his three Outer Banks National Parks.
"The National Park Service has a good mission: to preserve the cultural and natural resources for the enjoyment future generations," Collins said. "That's very important to remember. History is kind of like a mirror; you can only look back. There's value in pausing to look back, because only with a great appreciation of where we have been can we ever hope to understand where we're headed. It's like a map to where we are going, and the National Park Service really does that very well." 
Virginia Tillett, like Collins, grew up on Roanoke Island and has lived there her whole life. 
"Born and raised on Roanoke Island," Tillett said. "78 years." 
She has fond memories of growing up on the island and she has been invested in the life of the Outer Banks community. She served on the Dare County School Board for 20 years—elected five terms—and serving as Chair and Vice Chair. She also served as a Dare County Commissioner for 12 years, received the Order of the Long Leaf Pine Award in 2006 from the Governor of North Carolina and received the Citizen of the Year Award from the Outer Banks Chamber of Commerce that same year. 
Currently, Tillett serves as the President of the Roanoke Island Freedmen's Colony Preservation Association, work that she is passionate about.  
"I think the history needs to be told," Tillett said. "And our young folks need to be reminded. Because if you do not know where you came from, you certainly don't know where you're going." 
Some years ago, Tillett met Dr. Patricia Click, now an associate professor in the Division of Technology, Culture, and Communication at the University of Virginia, who was conducting research on the Freedmen's Colony on Roanoke Island. Dr. Click invited Tillett to join her in her work and Tillett realized that she had ancestors who were a part of the Freedmen's Colony. 
"The older people in my community did not refer to the Freedmen's Colony as the Freedman's Colony," Tillett said. "They referred to 'those folks that lived up the road.' … My grandmother on my dad's side, my grandparents on my mom's side, they were part of the folks that got a parcel of land, where I'm living is a part of that track."
Tillett recalls her grandmother telling stories about her grandfather, a trapper fisherman who served as a guide to the Union troops that occupied Roanoke Island in the early days of the Freedmen's Colony. "He knew the waters and the areas where the soldiers were trying to get to," Tillett said.
Tillett has dedicated herself to honoring and preserving the stories of her ancestors, as well as those of others who were a part of the Freedmen's Colony. Her hope is that local youth and young adults continue to learn about their heritage and to carry on the work of their elders.  
"I would like to see young folks embrace their history and how important it is. Because I look at young folks now that will say to me, 'I'm not going to vote…' But I'm saying, your ancestors died so you could vote. … And so, if I had a mission it would be to help them understand where they came from and how to move forward. Because you cannot move forward if you don't know what took place prior."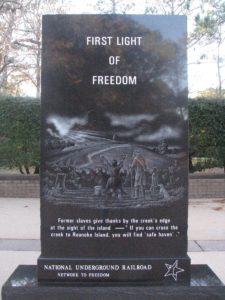 Fort Raleigh National Historic Site installed the First Light of Freedom Memorial in 2001 to mark the site of the Freedmen's Colony, and the park hosted an event in August of last year to commemorate 400 years of African American history in the United States—and to honor the descendants of the Freedmen's Colony. The park has also been recognized as part of the National Park Service's National Underground Railroad Network to Freedom. 
"I think [the Freedmen's Colony] is a huge piece of the country's history," Nelson said. "It really provides clarity to the current situation, where we are as a nation, and our laws and our civil rights. … Understanding that [on] this little island off the coast of North Carolina, there are stories here that are sown into the fabric of our nation." 
Tillett agrees. 
"I want them to know how hard their ancestors worked, fought, died," Tillett said. "For them to have a better life. That's what I want them to know." 
Special thanks to Virginia Tillett, Darrell Collins, Jami Lanier and Josh Nelson for contributing to this article.